KASPERSKY Internet Security 2016 3 Pc 1Year- (3 Installation Cds ,3 Serial Keys, Every Key 365 days valid)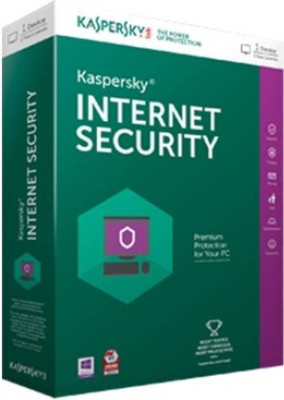 MRP - Rs. 2099
Price - Rs. 1410
product description
Product FeaturesSECURITY â Protects against viruses, spyware, Internet threats and more Hundreds of thousands of new malware items are being unleashed by cybercriminals⦠every day.
Thatâs why our cloud-assisted security continually adds to your defenses against malware and Internet dangers.
We also block banner adverts and let you filter out annoying spam messages.PRIVACY â Safeguards your privacy and defends against identity theft Phishing attacks are automatically blocked â plus our Webcam Protection technology stops criminals using your own webcam to spy on you.
We also prevent the tracking of your web browsing habits and the capture of your personal information.MONEY â Adds extra layers of security for online banking & shopping Whenever you visit a banking, shopping or payment website, our unique Safe Money technology checks that the site is secure, ensures youâre not being tricked by a fake site and then opens the website in a special, protected mode.KIDS â Helps you keep your kids safe from Internet dangers & more Award-winning Parental Control features make it easy for you to manage your kidsâ app downloads, prevent access to inappropriate web content & games, manage messaging on social networks and prevent disclosure of personal information.PERFORMANCE â Delivers world-class security*⦠without slowing you down Our security technologies combine protection & efficiency â so they work âbehind the scenesâ, without slowing down your âdigital lifeâ.
In addition, our special Gamer Mode helps you enjoy an uninterrupted gaming experience.SIMPLICITY â Simplifies security management and access to support A free My Kaspersky account lets you manage your security â from anywhere that you can access the Web.
You can check your PCâs security & license status and adjust key security settings â plus access special offers and download free Kaspersky Lab products.
My Kaspersky also gives you easy access to technical support..*Top overall test rating for 2015.
For details, see http://www.kaspersky.com/about/news/product/2016/Kaspersky-Lab-Outperforms-the-Competition-to-Secure-Testing-Top-Spot.Back to top âSystem RequirementsFor all devices:Internet connection required - for product activation & updates and for access to some featuresWindows-based desktops and laptopsApproximately 480 MB free space on the hard driveCD-ROM or DVD-ROM drive (for installation)Microsoft® Internet Explorer® 81 or higherMicrosoft Windows® Installer 3.0 or higherMicrosoft .NET Framework 4 or higherMicrosoft Windows 102 Home / Pro / Enterprise (32-bit or 64-bit3)Microsoft Windows 8.1 / Pro / Enterprise / 8.1 update (32-bit or 64-bit3)Microsoft Windows 8 / Pro / Enterprise (32-bit or 64-bit3)Microsoft Windows 7 Starter / Home Basic / Home Premium / Professional / Ultimate SP1 or higher (32-bit or 64-bit3)Microsoft Windows Vista® Home Basic / Home Premium / Business / Enterprise / Ultimate SP1 or higher (32-bit or 64-bit3)Processor: 1 GHz or higherMemory (RAM): 1 GB (32-bit) or 2 GB (64-bit)Microsoft Windows XP Home4 / Professional (32-bit) SP3 or higher / Professional (64-bit3) SP2 or higherProcessor: 800 MHz or higherMemory (RAM): 512 MBWindows-based tablets (system with an Intel® processor)Microsoft Windows 102 Home / Pro / Enterprise (32-bit or 64-bit3)Microsoft Windows 8.1 / 8.1 Pro (64-bit3)Microsoft Windows 8 / 8 Pro (64-bit3)Minimum screen resolution: 1024x6001 If youâre using Microsoft Internet Explorer 8, we cannot guarantee that the My Kaspersky portal and security management functions will operate correctly.2 To ensure continued compatibility with Windows 10, please download & install all available patches for your Kaspersky Lab security software.
Product is not intended to operate on Windows 10 Mobile editions.3 Some product features might work on 32-bit operating systems only.
For the full details on the operation on 64-bit operating systems, please visit https://support.kaspersky.com/12611.4 If youâre using Microsoft Windows XP on FAT32 file system, product installation is not supported.
you may also like