BB4 USB COMBO HUB PORT CARD READER WITH 2.4GHZ ULTRA SLIM WIRELESS OPTICAL Wireless Optical Mouse(USB, Black)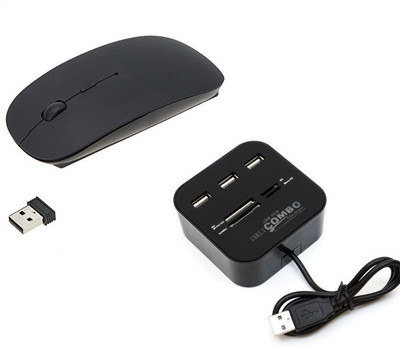 MRP - Rs. 1199
Price - Rs. 1049
product description
BB4 USB HUB AND ULTRA SLIM MOUSE IS A MUST COMBINATION TO HAVE ON YOUR WORK TABLE, USB interface expanded to three, small, practical and convenient, expand three 2.0 USB interface, each power supply topped 500MA.
Adopts second-generation ports on controller.
Directly with computer connected, without external power supply, simple to use.
Computer automatic identification installation, beardless driver, plug and play, inserted.
USB2.0 interface, support USB1.0/1.1, transmission speeds 1.5/12/480MBPS.
Built-in current over-load short-circuit protection device.
System supported: Win95/98 / Me / 2000 / XP, Linux2.4 andMac os8.5 or above version.
Streamline design, sectional area of super minityped 38x45mm.
Biggest support 127 usb devices.
Adopts the high quality electronic components, guarantee the stable operation.
USB 2.0 plug-and-play.
USB 2.0 x 3.
Support CARDS such MS/Pro Duo, M2, the SD/skillfully, Micro SD.AND Product Features, Comfortable, Ergonomic Design.
Works At Distances Of Up To 8-10 Meters.
Automatic Frequency Modulation Technology To Avoid The Interference Of Other Signal Frequency.
Unique Design, Super Energy Saving Mode, Battery Life Longer Than Similar Products By 50%.2.4ghz Beautiful Super Ultra Slim Mouse.