Affix Tempered Glass Guard for Apple iPad Mini, Apple iPad Mini 2, Apple iPad Mini 3 [7.9 Inch](Pack of 1)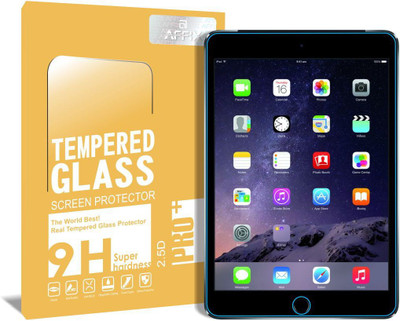 MRP - Rs. 999
Price - Rs. 349
product description
ARE YOU LOOKING TO PROTECT YOUR EXPENSIVE APPLE IPAD DISPLAY SCREEN? Then you are at right page, because we offer a low cost insurance policy in the form of smooth clear tempered glass which is better than any Screen Guard and Tempered Glass you had ever you used in the past.
Affix PREMIUM TEMPERED GLASS is made from Japanese Asahi Glass and comes with a smudge proof coating and Round Edge because of all this you will get a crystal clear view of your screen without the hassle of bubbles or dust getting in the way.
It has 100% transparency.
The Affix 2.5D Premium Tempered processed shield provides extensive protection from outside damages and scratches including sharp objects like knives and keys.
And its laser cut for a perfect fit.
Oleo phobic coating and the 9H hardness (high-grade glass) together prevent Most scratches, smudges and fingerprints and This Makes a Best Tempered Glass For Your iPad.WHY Affix PREMIUM TEMPERED GLASS?? When unfortunately, your iPad drops or caught under some accident it may seem like you may have lost your iPad display screen which is so expensive to repair and then suddenly you notice nothing happened to your screen, as all the impact was taken by your Affix tempered glass which sacrificed itself in protecting your tab screen and got itself shattered by not allowing even a single crack to pass through it towards your iPad screen.
SINGLE PACK INCLUDES: -One Tempered Glass Screen protectors.
-Alcohol wet cloth pad.
-Clean Microfiber Dry cloth.
-Cushion foam protection for glass.
-User Manual.
-Installation Guide -Retail Packaging.
Your Satisfaction is 100% Guaranteed! Click the 'Add to Cart' button above to complete your order now!
you may also like