Candytech 82393 USB Power Supply 12000 mAh Power Bank and Headphone(Pink, White, In the Ear)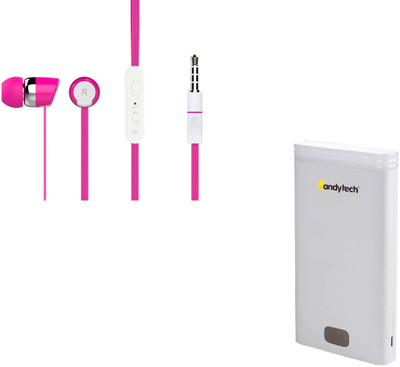 MRP - Rs. 2049
Price - Rs. 1649
product description
DYNAMIC EARPHONES : New Design With Mic , Plastic and metal Handfree.
High performance dynamic speaker systems for powerful/bass-driven stereo sound optimized for MP3.
Compatibility with Smartphones, IOS, Windows Phones, Feature Phones and more.
These Candytech Branded Earphones will turn you on with its high performance and clear sound quality.Enjoy your music with these latest set of amazing earphones from Candytech.
Lightweight and great sound make it a perfect purchase.
CANDYTECH SUPER 12000 mAh POWER BANK is ideal to provide some extra energy in case you run out of power.
In case of such a power-emergency you can top-up the power of your device and stay connected at all times.
Comes with LED Indicator indicating power .It Can Charge Two Mobiles/Devices at a time.Indications of Charging and Battery Status.USB Cable 2 in 1 Micro USB.Power Bank Comes With Torch Light and Digital Display.
you may also like