billion Deal Purse Type Well Looking Men's Debit/Credit/Visa Stylish Metal Silver Pocket ATM 6 Card Holder(Set of 1, Silver)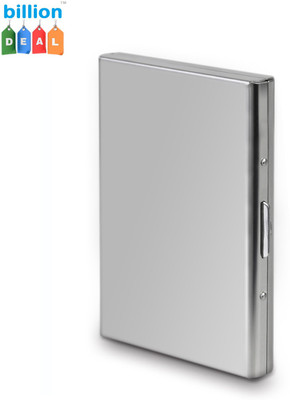 MRP - Rs. 799
Price - Rs. 236
product description
Stainless Steel Credit Card Holder SUPER SLEEK, STYLISH, AND STURDY You get Classic High Quality Credit Card Holders with Smooth Stainless Steel and Solid Construction that was Built to Last.
You'll love the feel, the looks, and the durability.so will everyone else who sees it! ULTRA SLIM AND PORTABLE Six sleeves firmly hold your Credit Cards, Debit Cards, Driver's License, ID Cards, and other credit card size cards.
Maximum Capacity: 7 cards (with 2 of the cards in one slot) or 6 cards + 3 folded bills.
Small enough to keep hidden in your front pocket or purse – just half an inch thick! Perfect for Business, Travel, Shopping, and Daily Use.
ULTIMATE CARD PROTECTION Enjoy peace of mind knowing your Cards and Identity are Safe and Secure.
Accordion-style display fits cards securely like a glove, while the sturdy metal case ensures your cards.
Keep Your Essential Cards Safe and Secure…in Style!
you may also like