I Kall K55 with MP3/FM Player Neckband(Black & White)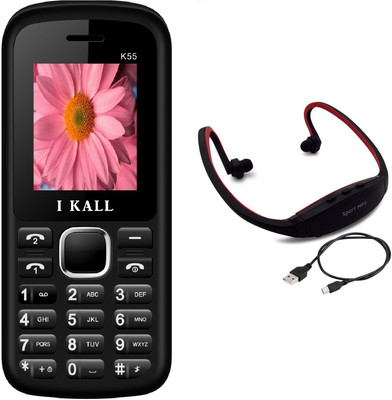 MRP - Rs. https://rukminim1.flixcart.com/image/800/800/mobile/3/z/s/i-kall-k55-with-mp3-fm-player-neckband-k55-with-neckband-original-imaemrury6jddmag.jpeg?q=90"},"productFamily["MOBEMW32ZVQDGZYA","MOBEMW3386PPP8XZ","MOBEMW3Y2UZB5BJU","MOBEMXH2UHXAG3ZS"],"maximumRetailPricenull,"flipkartSellingPricenull,"flipkartSpecialPricenull,"productUrl
Price - Rs. I Kall","inStock":true,"codAvailable":false,"discountPercentage":null,"offers":["Extra 5% off* with Axis Bank Buzz Credit Card"],"categoryPath
product description
This is combo of mobile with MP3/FM Player Neckband which enhances the utility of the mobile.Alphanumeric Non-QWERTY keypad.
The memory of the phone be augmented up to 8GB.
Camera and Battery: The I Kall Dual SIM Multimedia Mobile boasts of an inbuilt 0.3MP Primary Camera that allows easy and quick capturing of decent quality shots and videos at random.
In addition, the phone is powered by a somewhat sturdy 1000 mAh Battery.
Multimedia and Connectivity: The I Kall Dual SIM Multimedia Mobile promises a whole host of exciting multimedia features to keep you amused while on the go.
It comes with an integrated FM Radio, in addition to an A-V player supporting a wide array of popular formats like MP3, and MP4.
Also, the phone boasts of an ace quality speaker that ensures a loud sound to deliver a gratifying multimedia experience.
Additionally, the I Kall Dual SIM Multimedia Mobile supports Bluetooth for a swift and fuss-free wireless content sharing across a wide array of compatible gizmos.
you may also like