C&E TV-out Cable 10 Feet Premium Aux Audio Cable with 3.5mm Male to Male Gold Plated Connectors for Headphones, Mobile phones, Home, Car Stereos and More Grey (5 Pack)(Grey, For DVD)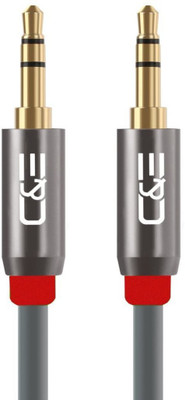 MRP - Rs. 3495
Price - Rs. 3445
product description
\"Overview: The C&E 3.5mm Stereo Audio Cable is ideal for extending the audio connection on iPods, iPhones, Media Players via the aux input (3.5mm jack).
Soft PVC jacket, poled metal connectors, and strain-relief rings increase flexibility and durability.
Gold-plated connectors, bare copper conductors, and braided shielding combine together to deliver exceptional audio quality.
Beveled step-down design provides a secure connection even with a smartphone in a case.
Key Features: • Two 1/8\"\" (3.5mm) Plugs Shielded with Strain Relief provide the best quality connection forall your music unlike FM adaptors or cassettes • SlenderDesign to provide a seamless experience while driving or at home • 100% bare copper conductor, no copper clad steel (CCS) Device Compatibility • iPhone 6G(S),5G(S), 4G(S), 3G(S),2G, all iPods, iPad 2 and original iPad • All MP3 players, CDplayers, Laptops, Tablets and Other Music Devices with a 3.5mm audio socket • All Android smartphones - HTC, All Droids, Samsung • All Blackberry smartphones \"
you may also like