Dragon War X Q3 Gaming Keyboard and Mouse Combo Wired USB Gaming Keyboard(White)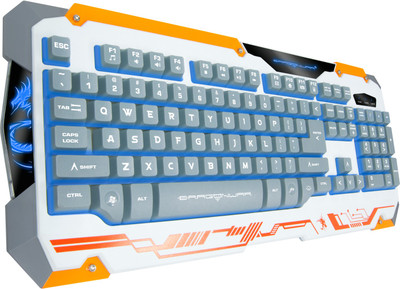 MRP - Rs. 2790
Price - Rs. 2299
product description
Are you a hardcore gamer who is looking for a gaming accessory that offers you a much better all-round gaming experience? Well, look no further as the Dragon War Q3 keyboard and mouse will change the way you play games.
Crafted with cutting-edge technology to improve the performance of the gamer, the keyboard and mouse are ergonomically designed to offer unmatched comfort.
Semi-mechanical keyboard with quick-access keys and backlight illumination This semi-mechanical Dragon War Q3 keyboard has been ergonomically designed to provide maximum comfort even during long hours of play.
With its preset keys, you can access various video game functions easily.
Also, the 19 key roll-over feature allows you to press several keys simultaneously.
This is a highly useful feature when you have to perform combo moves in video games.
Each keystroke is scanned independently regardless of how many other keys are being pressed at the same time.
The keyboard comes with backlight illumination, which allows you to see the keys even under low-light conditions.
Gaming mouse with laser technology and customisable profile The Q3 mouse comes with laser technology that is capable of precise and pinpoint tracking and offers superior control.
The specially designed laser sensor with 3200 dpi ensures that all the movements are tracked right away.
The mouse comes with 6 control buttons that offer flexibility while gaming.
After you have installed the device, you can access the Mouse Tab option on the computer to customise the mouse's profile, scroll speed, lighting, sensitivity and various other functions.
Also, each of the 6 control buttons can be customised to your desired function.
In terms of design, the mouse has been ergonomically designed to offer you comfort, even when you play for hours at a stretch.
The connecting cord comes with a braided fibre cable and a gold-plated USB connector.
you may also like